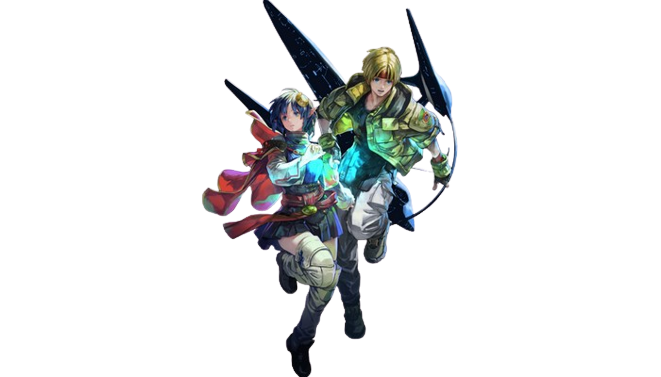 The celebrated sequel in the STAR OCEAN series, STAR OCEAN THE SECOND STORY R, returns with a unique 2.5D look blending 2D pixel characters and 3D environments. It retains all the greatness of the original release while introducing exciting new elements!
Discover fresh battle mechanics, complete Japanese and English voiceovers, both original and reimagined music, convenient fast-travel, and much more. It's the ultimate rendition of a classic yet modernized JRPG, appealing to both newcomers and long-time fans.
A fusion of Fantasy and Science Fiction in a distinctive visual style
From perilous dungeons to bustling towns, STAR OCEAN THE SECOND STORY R's world dazzles with a captivating 2.5D design that melds stunning 3D visuals with nostalgic 2D pixel characters.
An epic tale with dual protagonists
Embark on your journey as either Claude or Rena. Your choice alters perspectives and recruitable allies. Dive into your party members' lives through the unique Private Actions system, nurture relationships, and unlock diverse endings. Renowned series artist Yukihiro Kajimoto contributes new character illustrations.
Electrifying, visually stunning battles!
Engage in fast-paced combat, utilizing fresh mechanics to strategically vanquish adversaries. Employ the "Break" mechanic to continually inflict damage and coordinate your allies for powerful Assault Actions.
Combine potent equipment with a plethora of skills
Tailor your party's progression with a vast array of skills, including Cooking, Art, Metalcraft, and more. As you advance to Specialty levels, master the enhanced Item Creation system to forge ultimate gear with varied effects.
Japanese and English voice acting
All event scenes feature full voice acting, featuring the original game's voice cast. Additionally, dialogue from STAR OCEAN SECOND EVOLUTION (200 is included and can be chosen.
An iconic soundtrack reimagined by Motoi Sakuraba
Every track has been re-composed, featuring full-band performances and string arrangements. Exploration and cinematic themes receive fresh recordings, elevating them to new heights.
3 difficulty modes
Select EARTH for a leisurely journey, GALAXY for a satisfying challenge, or UNIVERSE for the ultimate test of your skills, if you dare.

Release Date November 2, 2023
Genre Role-Playing, Action
Publisher & Developer SQUARE ENIX
System Nintendo Switch
Image format NSP
Game version 1.0.1
Language English, Japanese
Sub-Title English,French,Italiano,Deutsh,Espagnol,Chinois
Required firmware 16.1.0
Tested performance: Yes (on 16. 1. 0,
Atmosphere 1. 5. 5)